Hello there Märta Waldrop, one of Metry's Account Managers!
Tell us a little bit about yourself!

Nämen tjena! Märta speaking. I doubt that our marketing team would allow me to ramble on about everything that makes me me. It would take up way too much space. I seem to have wasted quite a bit of it already so let's get on with it! Here's a bullet list:
born in June of 1992 (great year, yes?)
extroverted (emphasis on this one)
empathic (i.e. laughs a lot, cries a lot, is a lot)
housed in Gothenburg (in a fun apartment with one dis-assembled mannequin and two assembled roommates)
educated in Santa Barbara (student loans are fun)
enjoy cooking, socializing, singing, thrifting, competing (if I have a shot at winning)
laugh at my own jokes (if at least one person gets to laugh it's a win)
broke the format of this interview immediately (one of Metrys core values is being disruptive!)
What does an Account Manager at Metry do?
I do consultative sales and help new and existing customers. I see my role as being a support and aid to our customers and those who haven't yet begun working with Metry. A large part of my job is guiding our customers in the vast world of energy data and all the different ways they can work with it while finding the best solution for them as a company.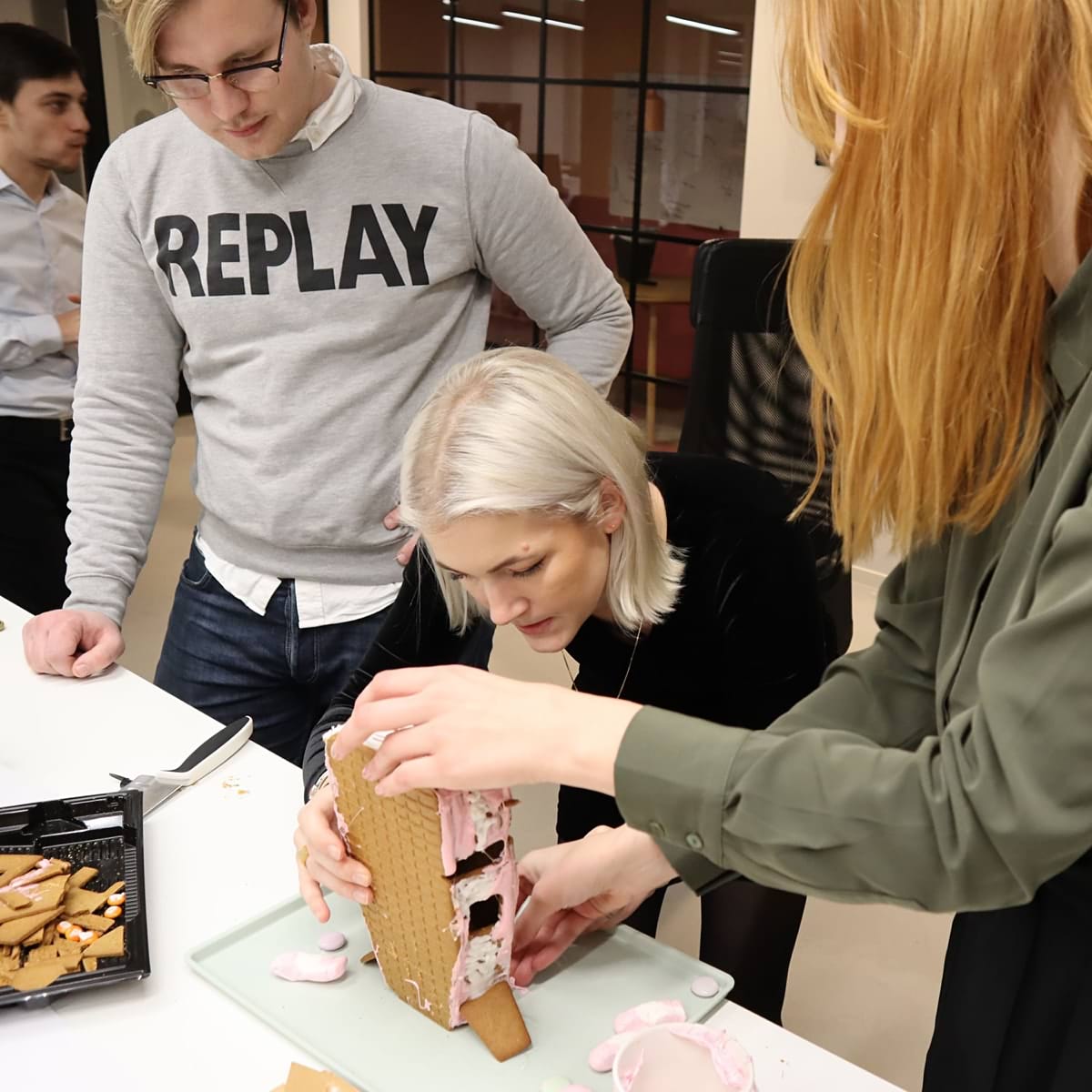 In action during the annual ginger bread house competition.

Why did you choose to work at Metry?
I was working in a job where I found it difficult to leave the shower in the morning because I had no motivation to go. So I quit. I had realized that I wanted to work in sales, and a friend of mine shared the job opening with me. I somehow managed to get an interview (where I wasn't able to drink the coffee offered to me due to nerves and shaking hands) and then through some kind of miracle Magnus and Joel decided to hire me. And gee am I happy that they did! A year has now passed and I wouldn't want to be anywhere else (though people have tried to persuade me). I am given massive opportunities to learn and try my wings even when I feel that they might be a bit weak. The trust placed in me and the respect shown to me as an individual makes the Metry crew a group that I love to blend in with.
What is the most important part of your job?
A major driver for me is finding good solutions for our customers – solutions that are valuable for both them and Metry. If our customers are dissatisfied, I am too. If they are happy, then I am happy. So it serves me to do a good job, or I'll walk around being miserable. Thankfully the rest of my (frankly) awesome colleagues make sure that it isn't too difficult of a task.
What would fail if YOU weren't here?
The quota of emotional tears and laughter would not be met. (No, I don't care that there isn't such a quota. I meet it – it exists – it would be unfulfilled if I wasn't here.)